Shopping Cart
Your Cart is Empty
Thank you for your business!
You should be receiving an order confirmation from Paypal shortly.
Exit Shopping Cart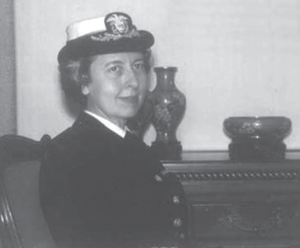 U.S. Navy Commander (retired) Virginia Eberharter was born in 1923 in Mill Run Pennsylvania. She is a 1941 graduate of Connellsville High School. She knew growing up that she wanted to help people. After graduating from high school in 1941, she entered nursing school in the fall and remembers "like yesterday" when Japan bombed Pear Harbor on December 7, 1941.
When she graduated in 1945, the last year of the war, the need for nurses was overwhelming. Soon she enlisted in the U.S. Navy. Her first assignment was at St. Albans Naval Hospital in Long Island, New York, where she saw war's horrors up close and personal. The hospital's specialty was treating burn victims, mostly sailors and Marines from the South Pacific.
After serving her tour of duty, Virginia attended the University of Pennsylvania on the GI Bill and received a bachelor of science degree in public health in 1949. She stayed on to work at the university's hospital, where some of the nation's earliest heart catheterizations were performed.
In 1951, her services were again needed by the military. She was assigned to Camp LeJuene in North Carolina, where she cared for those wounded in the Korean War. She was nursing at the U.S. Naval Hospital in Portsmouth, Virginia, where she cared for those wounded in the Vietnam War. She saw men and women who were paralyzed. "We'd turn them over on stretchers every hour," she said. "I thought how terrible to be so young and paralyzed." It was in Portsmouth where she attained her highest rank of commander, a noteworthy achievement. Unlike in the 1960s, naval nurses' ranks today go all the way to admiral.
From Portsmouth she was sent to Naples, Italy, serving as chief nurse at the U.S. Naval Hospital there. Virginia's final military post was at the U.S. Naval Hospital in Annapolis, Maryland, working there until she retired in 1972. As a civilian she continued her service at the VA Hospital in Martinsburg, West Virginia. "It has been both an honor and a privilege to serve my country and to care for the finest men and women our nation has to offer," she says. "They are the youngest and brightest that our country has to offer. They have given everything for our country. The least we could do when they are injured is to help them." In 2011, Virginia was recognized by the U.S. Congress for her distinguished career as a Naval Corps Nurse.
/